Evans Disposal Service is closed the following holidays:
January 1st
New Year's Day
July 4th
Fourth of July
November 26th
Thanksgiving Day
December 25th
Christmas Day

***All routes will resume the following day.
---
Laurens County Collection Sites
Days & Hours of Operation:

The collection centers shall be open and staffed on the
following days and times:

Tuesday: 7:00 A.M. to 7:00 P.M.
Thursday: 7:00 A.M. to 7:00 P.M
Saturday: 7:00 A.M. to 7:00 P.M
Sunday: 1:00 P.M. to 6:00 P.M

The following are the holidays the collection center sites may be closed. When these holidays are observed the center must open on either the preceding day or the following day as designed by The County.
July 4th
Thanksgiving Day
Christmas Day
Easter

On the major Holidays, we are closed, and therefore
we will be open the next day.

---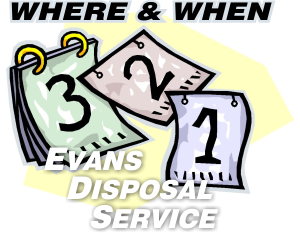 Again, thank you for choosing Evans Disposal Services. If you have questions about our services or need to setup a new account, please click on the proper page or feel free to call or email us at your convenience. Our office telephone number is 478-274-9470 or email us now at info@evansdisposal.com.

Evans Disposal has been handling residential, business and industrial waste management for over 20 years. The company was established in March of 1997 and has continued to grow and thrive ever since thanks to the support of the communities that we serve and our dedicated staff. We know first hand what the meaning of efficient and dependable service and what it means to our customers and we work diligently each day to maintain that level of superior service. Learn more now about Evans Disposal...

For anyone looking to make recycling a more integral part of their lives, our web guide is an overview of the basic legwork as well as some of the finer and more advanced concepts that have emerged in recent years. There is so many benefits to recycling + all of the new ways that businesses can recycle and help save our landfills. If we all do our part, the positive impact it could have on our environment and landfills would be very significant. Learn more now...